About Banner Health Network
---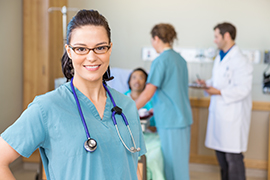 Banner Health Network (BHN) is an accountable care organization that joins Arizona's largest health care provider, Banner Health, and an extensive network of primary care and specialty physicians to provide the most comprehensive health care solutions for Maricopa County and parts of Pinal County. Through BHN, known nationally as an innovative leader in new health care models, insurance plans and physicians are coming together to work collaboratively to keep members in optimal health, while reducing costs.
BHN collaborates with many commercial and government payers, plus large employer groups, to deliver on the triple aim of lower costs, high quality care and an excellent patient experience. Health care can be affordable with a design that engages the physician, patient and payer in seeking the best care and health outcomes.
Delivering improved access to care and connecting with patients in new ways are a primary focus for Banner Health and BHN. Banner Health is looking to technology to connect patient and caregiver through telemedicine-based care delivery and a web portal that gives our members access to their own medical data, facilitates communication with Banner medical practices and allows users to manage their health care in the space and time that is most convenient for them.
Banner Medical Group (BMG)
Banner Medical Group (BMG), Banner Health's employed physician group, is a team of more than 1100 physicians and advanced practitioners located in Alaska, Arizona, Colorado, Nebraska, Nevada and Wyoming. BMG providers serve patients in a variety of care settings. BMG primary care providers like pediatricians, internists, family medicine physicians and obstetrician/gynecologists staff Banner Health Clinics and Banner Health Centers, and BMG specialists care for patients in both clinic and hospital settings. For more information, visit www.BannerHealth.com/bmg.
Banner Physician Hospital Organization (BPHO)
Originally formed in 1989 to represent the community physician, this independent physician-led organization participates in a variety of traditional and risk-based commercial and government contracts in order to deliver care to the residents of Maricopa and Pinal counties. Today, the group is 1,000 physicians strong and growing, with 80 percent specialists and 20 percent primary care membership. The BPHO boasts over 20 years of organizational experience in managing the health of patient populations, including Medicaid, Medicare and commercial membership. The BPHO works closely with Banner Health and Banner Health Network.
Arizona Integrated Physicians (AIP)
Arizona Integrated Physicians is a physician organization comprised of more than 1,000 physicians, including approximately 250 primary care physicians and 750 specialty care physicians. AIP was founded in 1994 and has evolved to become a nationally recognized leader in implementing comprehensive quality and care management programs, pay-for-performance models, outcome improvement measures and tiered provider reimbursement models tied to quality measures and patient outcomes. AIP is dedicated to becoming a virtual medical group and clinically integrated physician network that enhances the viability and sustainability of independent physicians. For information, please visit www.arizonaphysicians.com.
Related
---