New to Banner Health Network?
---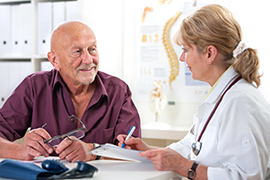 At Banner Health Network (BHN), we are dedicated to maintaining your best personal health while delivering a positive health care experience. We serve as the provider network to many commercial, Medicare and Medicaid/AHCCCS insurance plans– this means we provide the hospitals and medical professionals who will care for you.
Members served by BHN, have access to over 5,000 providers, plus 15 Banner Health hospitals as well as our Banner Health Centers (primary care), surgery centers, behavioral health services, home care and more. Specialty care is also part of the network including Banner MD Anderson Cancer Center.
Your participation on your health care team is essential:
Select the right primary care provider (PCP) for you. He or she is the head coach of your health care team. To learn more about BHN providers see the provider directory.
Be sure to schedule an annual wellness visit and make time for necessary screenings. If you have a chronic illness, follow the care plan recommended by your PCP, and ask questions so you can best participate in your ongoing treatment.
Get a flu vaccination every year; it saves lives. Ask your primary care physician about other vaccinations that could be right for you.
If you are managing a chronic disease, or looking to make changes in your lifestyle for better health, review our free educational opportunities. Our Lifestyle Management Series offers a variety of offerings throughout the year at locations around the Valley. There is no charge to attend these health seminars and ask questions of our health professionals.
Related
---