Banner Health Network sees major gains in quality, returns significant shared savings in year two of Medicare's Pioneer ACO
---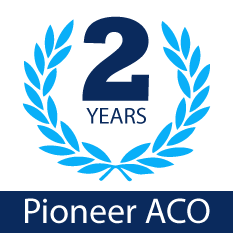 Similar results being realized in private sector accountable care models
PHOENIX (Sept 16, 2014)
Phoenix-area beneficiaries in the Medicare Pioneer Accountable Care Organization (ACO) served by Banner Health Network (BHN) receive a high level of quality care and preventive medicine that results in less cost to the nation's Medicare system. Today, the Centers for Medicare and Medicaid Services (CMS) released the preliminary results for the Pioneer ACO's Performance Year 2 (calendar year 2013) which further illustrates that point.
Recently released accountable care data from one of BHN's payer partners in the private sector, offers similar cost and quality findings across commercial populations.
BHN's quality score in 2013 reflected a gain of nearly 19 percent from the previous year. "Our providers are delivering high quality, coordinated care. The care they want to deliver," said Dr. Shaun Anand, Medical Director for Banner Health Network. "They are rewarded for providing holistic care to BHN's members and beneficiaries, and given the infrastructure, information and resources they need to be efficient and effective in preventive, chronic and acute care."
As a top performer in the Medicare Pioneer ACO for the second consecutive year, BHN's savings to CMS of more than $15 million made up 16 percent of the total $96 million returned by 23 Pioneers in Performance Year 2. This was possible as a result of delivering the right care, at the right time in the right setting.
"Highly engaged provider partners, information technology tools and an organizational commitment to value-based care were key elements of our success," says Chuck Lehn, Banner Health Network Chief Executive Officer. "Supporting beneficiaries when they were most at risk and in need of medical advocacy— after a new diagnosis, following hospital discharge, or as a result of multiple emergency department visits, for example— has also been an important strategy in this program."
BHN has continued to participate with the Pioneer ACO program in Performance Year 3 (current calendar year), and has recruited new qualified BHN physicians to further develop our Pioneer program in Performance Year 4 (calendar year 2015).
Banner Health Network, 2-2-2
In December 2011, Banner Health Network announced that it had been selected as one of only 32 organizations in the country to demonstrate the Pioneer ACO Model. Only 23 organizations continued with the model after the first year. The central premise of the Pioneer ACO effort is to create value through a highly coordinated, collaborative network of providers who are focused on achieving the highest level of wellness and prevention possible for their Medicare patients, while addressing chronic and acute illness aggressively.
Pioneer provider networks benefit financially when they return savings to Medicare, not through increased volume of services that are reimbursed in a traditional fee-for-service model. Revenues are generated through a percentage of Medicare savings. Savings are realized through tight coordination of care and adherence to evidence-based care. If expenses are greater than the expected benchmark, that Pioneer ACO is at risk for a percentage of losses.
In addition to participating in the Medicare Pioneer ACO, BHN has developed accountable care relationships with commercial payers such as: Aetna, Cigna, Blue Cross Blue Shield of Arizona, and UnitedHealthcare, among others.
BHN is comprised of Banner Health-employed physicians and Banner Health-affiliated community physicians; 14 Banner Health hospitals; Banner Health Centers and Clinics; hospice, home care, lab and related clinical services. The Network ensures convenient access to Medicare beneficiaries with more than 3,000 providers located throughout Maricopa County and into Pinal County.
About Banner Health Network
Banner Health Network (BHN) is designed to provide a highly-coordinated patient care experience for beneficiaries of government and private sector insurance plans. BHN is comprised of 3,000 Banner Health-affiliated providers, 14 Banner Health hospitals in Arizona's Maricopa County and a wide variety of other clinical services. With a population health management focus, and a highly developed health information management system, BHN seeks to provide high quality care, and an excellent member experience at an affordable price. Parent company, Banner Health, is one of the largest non-profit health systems in the country, with operations in seven states.
About Banner Health
Headquartered in Phoenix, Banner Health is one of the largest, nonprofit health care systems in the country. The system manages 24 acute-care hospitals, the Banner Health Network and Banner Medical Group, long-term care centers, outpatient surgery centers and an array of other services including family clinics, home care and hospice services, and a nursing registry. Banner Health is in seven states: Alaska, Arizona, California, Colorado, Nebraska, Nevada and Wyoming. BannerHealth.com
Related
---