Lower cost in the Medicare Pioneer model's first year
---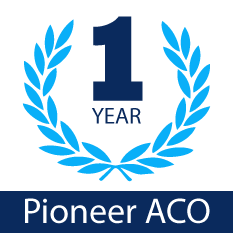 PHOENIX (July 16, 2013)
In its first year of performance, Banner Health Network (BHN) was successful in delivering more coordinated care and a considerable savings over traditional fee-for-service Medicare plans as part of the Medicare Pioneer Accountable Care Organization (ACO). BHN leaders are now focusing efforts on the true test of this model– whether it can be sustained and improved upon in coming years.

"We are very pleased by our first year results in Medicare's Pioneer Accountable Care Organization," said Tricia Nguyen, Chief Medical Officer for Banner Health Network. "Our ability to deliver shared savings, in excess of $13 million, has been the result of more coordinated care by our providers, advanced population health technology and surrounding our most vulnerable and chronically ill beneficiaries with supportive case management."
In the first year BHN also demonstrated an ability to reduce hospital admissions, hospital length of stay and the need for hospital readmissions by supporting beneficiaries when they are most at risk and in need of care and advocacy. BHN was a top performer in terms of shared savings compared to other Pioneer organizations nationally.

"Through our experience, we believe the value-based Pioneer ACO model has merit, and that it has the potential to diminish the predominance of fee-for-service plans in government and private sectors," said Chuck Lehn, CEO for Banner Health Network. "It is the best solution at this time for creating sustainability for the Medicare program, and could be the basis for historic change in the U.S. healthcare industry."
Banner Health Network will proceed with the Pioneer ACO program in Performance Year 2 (calendar year 2013) and has begun recruiting additional physicians for Performance Year 3 (calendar year 2014).
The Centers for Medicare and Medicaid Innovation (CMMI), that operates the Pioneer program, reported that the results from the Pioneers overall were promising. "These results show that Pioneer ACOs have been successful in reducing costs for Medicare, improving the quality of care for their patients, and that incentives to align payment with quality can work."
In December 2011, Banner Health Network announced that it had been selected as one of only 32 organizations in the country to demonstrate the Pioneer ACO Model. The central premise of the Pioneer ACO effort is to create value through a highly coordinated, collaborative network of providers who are focused on achieving the highest level of wellness possible for their Medicare patients.

The financial incentive for Pioneer physician providers is to have improved financial benefit through shared savings, not increased volume of services that are reimbursed in a traditional fee-for-service model. Provider revenues are generated through a percentage of Medicare savings. Further, if provider expenses are greater than available Medicare funding, the individual ACO is at risk for that loss.
In addition to participating in the Medicare Pioneer ACO, BHN has developed accountable care relationships with Blue Cross Blue Shield of Arizona, Aetna, Health Net, United Healthcare and Cigna in the last 18 months.

BHN is comprised of Banner Health employed physicians and Banner affiliated physicians; 13 Banner hospitals (12 in the Phoenix metro area); Banner Health Centers and Clinics; and other Banner services in Arizona. The Network ensures convenient access to Medicare members with more than 2,600 physicians located throughout Maricopa County and into Pinal County.
About Banner Health Network
Banner Health Network is a comprehensive provider network that accepts patient care and financial accountability for those served by the Network. It is one of a few networks in Arizona serving patients in a population health management model. This model offers a highly coordinated patient experience through a primary care setting that seeks to improve patient outcomes. It emphasizes wellness, including wellness at a personal best for patients suffering from chronic diseases.
About Banner Health
Headquartered in Phoenix, Banner Health is one of the largest, nonprofit health care systems in the country. The system manages 24 acute-care hospitals, the Banner Health Network and Banner Medical Group, long-term care centers, outpatient surgery centers and an array of other services including family clinics, home care and hospice services, and a nursing registry. Banner Health is in seven states: Alaska, Arizona, California, Colorado, Nebraska, Nevada and Wyoming.
Related
---